I started painting our guest (kids) bathroom about a month ago. I was nervous about this
makeover
. But, I knew the color would be fine over a larger scale (at least I hoped). I'm pretty happy with the results and wanted to share them with you. It's not completely done, but done enough to let friends and family use the bathroom again. (This is the main bathroom at the end of the hall that most guests use. It's also the bathroom the two youngest kids share).
View into the bathroom from the hallway
View of the bathroom from the bathtub (behind the curtain)
Our next step is to replace the vanity and sink. Probably the light bar too (at least fix the burned out bulb).

A place to hang the towels (whenever they decide to stop using my bath and actually use this bathroom again).
Maybe next year, we can replace the vanity with this:
and the floor with this: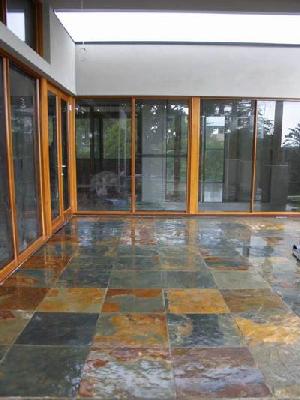 obviously, we would need much less tile in the bathroom.